CONTENTS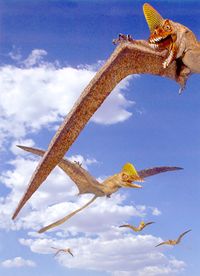 The First Occurence of Skeletal Pterosaur Remains in Utah
Stephen A. Czerkas and Debra L. Mickelson
A New Rhamphorhynchoid with a Headcrest and Complex Integumentary Structures
Stephen A. Czerkas and Qiang Ji
A New Toothed Bird from China
Stephen A. Czerkas and Xing Xu
An Arboreal Maniraptoran from Northeast China
Stephen A. Czerkas and Chongxi Yuan
Flying Dromaeosaurs
Stephen A. Czerkas, Dianshuang Zhang, Jinglu li, and Yinxian Li
A Preliminary Report on an Omnivorous Volant Bird from Northeast China
Stephen A. Czerkas and Qiang Ji
---
THE FIRST OCCURRENCE OF SKELETAL PTEROSAUR REMAINS IN UTAH
Stephen A. Czerkas and Debra L. Mickelson
Abstract
The fossil remains of pterosaurs, especially of rhamphorhynchoids, are poorly represented in North America, and previously unknown from the state of Utah. A partial rhamphorhynchoid skeleton including isolated vertebrae, elements of the wings and an undistorted scapula/coracoid are described. This specimen further establishes a broad geographical distribution of pterosaurs throughout the northern hemisphere, and their presence during the Upper Jurassic. Known from the Tidwell Member of the Morrison Formation, this fossil demonstrates the incomplete nature and randomness of fossil preservation. It further provides an alternative trackmaker for the identification of fossil footprints known from the American southwest which have been attributed to pterosaurs.
---
A NEW RHAMPHORHYNCHOID WITH A HEADCREST AND COMPLEX INTEGUMENTARY STRUCTURES
Stephen A. Czerkas and Qiang Ji
Abstract
A new rhamphorhynchoid is described with a headcrest that is unprecedented among the long-tailed pterosaurs. The preservation of the headcrest presents significant implications regarding the physical appearance and aerodynamics of all pterosaurs. Also, "hair-like" integumentary structures of this pterosaur are shown to be complex multi-strand structures which presents evidence on the origin of feathers and the possibility of a remarkably early ancestral relationship between pterosaurs and birds.
---
A NEW TOOTHED BIRD FROM CHINA
Stephen A. Czerkas and Xing Xu
Abstract
The fossil of a partial skeleton, including feather impressions, of a new toothed bird is described. The jaws are equipped with numerous teeth resembling those of Archaeopteryx. Together with a furcula which is longer and more deeply U-shaped than that of Archaeopteryx, the highly derived shoulder girdle and development of the wings suggest a strong ability of flight. However, less derived characters of the carina and wrist elements demonstrate that its flight abilities still were not as perfected as in extant birds.
---
AN ARBOREAL MANIRAPTORAN FROM NORTHEAST CHINA
Stephen A. Czerkas and Chongxi Yuan
Abstract
The small skeleton of a juvenile saurischian resembling a theropod with maniraptoran characters, including a semilunate distal carpal block, is described as an arboreal precursor to birds. Although most closely allied to Archaeopteryx, numerous characters throughout the skeleton reflect a more basal developmental stage. The manus is equipped with a robust, hypertrophied third digit unprecedented among the Saurischia. This specimen represents a previously unknown lineage of arboreal dinosaurs which sheds new insights for interpreting the origin of birds as well as theropod dinosaurs.
---
FLYING DROMAEOSAURS
Stephen A. Czerkas, Dianshuang Zhang, Jinglu li, and Yinxian Li
Abstract
Dromaeosaurs have been regarded as theropod dinosaurs that were among the closest avian ancestors which were strictly terrestrial having not yet evolved the ability to fly. Consequently, phylogenetic analyses have resulted in the claims of birds having evolved from "the ground up" within a dinosaurian ancestry. Though widely accepted, the relationship between birds and dinosaurs has remained highly controversial and disputed by advocates of birds as having been derived from an arboreal, non-dinosaurian type of archosaur. The cladistical interpretation of the dinosaur/bird relationship hinges upon the presumption of the dromaeosaur's inability to fly. Recent discoveries of dromaeosaurs have revealed impressions of feathers and avian characters in the skeleton that nearly equal and even surpass that of Archaeopteryx. Yet despite this, the ability to fly has been discounted due to the shorter length of the forelimbs. Described are two such dromaeosaurs, but preserved with impressions of primary flight feathers extending from the manus which demonstrate an undeniable correlation towards the ability to fly. This compelling evidence refutes the popular interpretation of birds evolving from dinosaurs by revealing that dromaeosaurs were already birds and not the non-avian theropod dinosaurs, as previously believed.
---
A PRELIMINARY REPORT ON AN OMNIVOROUS VOLANT BIRD FROM NORTHEAST CHINA
Stephen A. Czerkas and Qiang Ji
Abstract
A preliminary report on a new bird, Omnivoropteryx sinousaorum, gen.et.sp.nov. from the Upper Jiufutang Formation (Early Cretaceous) of Liaoning, China. This new bird has a skull which most closely resembles that of Caudipteryx, but its body has proportionately long forelimbs indicating a strong ability to fly and comparatively short hindlimbs with feet that were strongly adapted for perching. The highly derived avian characteristics of the wings and hindlimbs, together with the unique morphology of the skull reveal that Omnivoropteryx had adapted to a different dietary ecological niche from that of predaceous birds. This demonstrates that a far greater diversity of birds co-existed during the Late Jurassic/Early Cretaceous than has been previously known. In addition to variations in behavior, the anatomical differences also present a broader understanding which has significant implications towards the phylogenetic relationships during the early stages of avian evolution.