HOURS
The museum is closed for the season, and will open again on April 15, 2023.
RATES
Admission: $5.50 for adults, $4.50 for seniors and $3.50 for children
Guided group tours are available with reservations at 435-678-3454.
---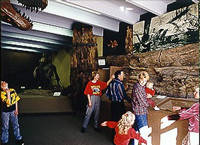 At The Dinosaur Museum, the complete history of the world of the dinosaurs is presented. Skeletons, fossilized skin, eggs, footprints, state-of-the-art graphics, and beautifully realistic sculptures present the dinosaurs from the Four Corners region and throughout the globe.
In the museum you will see exhibits which show dinosaurs from the different countries and how they were distributed throughout the globe. You will also view the latest in dinosaur skin research, which shows startling new aspects to some familiar dinosaurs. Enjoy the displays of dinosaur eggs from around the world, and the baby Protoceratops and Maiasaura sculptures.
The Dinosaur Museum is in the city of Blanding, Utah, which is located in beautiful San Juan County. The vacation spots of Moab City and Arches National Park are to the north, and historic Bluff and Monument Valley are to the south. Fresh air, spectacular scenery, and rich cultural experiences await the traveler to this region.
For a day's worth of diversified museum viewing, Blanding is home to three museums, which present Paleontology, Archeology, and Western USA history in both indoor and outdoor settings. Along with The Dinosaur Museum, there is The Edge of the Cedars Museum and State Park, and the Utah State University Nations of the Four Corners Cultural Center.